We are different than other hospitals.
We stress proactive medicine and progressive surgical procedures in an effort to maintain healthy, happy animals throughout their life.
We offer specilaized vaccinations for both dogs and cats such as Distemper, Rabies, Bordetella, Leptospirosis, Canine Influenza, Feline Viral Rhinotracheitis, Calici virus, Panleukopenia and Feline Leukemia Virus.
Getting your pet a routine check up is a great way to gaurd against disease and
keep them healthy and happy. We offer bi-anual and anual check ups for cats and dogs.
We provide full service, professional veterinary dental oral care and dental surgery. We offer oral examinations and annual preventative dental cleanings for both dogs and cats.
Let it be Spay, Neuter, Dental extractions, Benign growths of the skin or another elective surgery our veterinary staff are highly experienced and caring people who are happy to help ease the stress and fear associated with your pets surgery.
Urgent Care & Emergency Hospital
Some common urgent care surgical procedures are: Skin lacerations or abscess, Intestinal obstruction from a foreign body, Internal bleeding, Torn cruciate or ACL ruptures, Fracture repair, Malignant skin tumors, Bladder stones/urethral blockages and Spleen cancer. If your pet is in need of immediate care, please call us now.
Alternative and Integrative
We offer Veterinary Medical
Acupunture, Laser Therapy to treat a variety of injuries, wounds, fractures, neurological conditions, dermatological problems, and pain as well as E-Stim (Neuromuscular electrical stimulation) for neurological and orthopedic issues, pain management or to help reduce swelling or edema.
When it comes to managing your pet's pain, our practice offers and the highest quality of care utilizing compassion and the most effective medical treatments available. We develop a unique pain management plan to best serve the individual needs of your pet. This plan may include medication, acupuncture and/or complementary treatment.
Veterinary Diagnostic Imaging
Veterinary diagnostic imaging includes radiographs (x-rays), ultrasound, MRIs and CT scans, all of which are used as diagnostic tools to collect information on your dog's health. We use these images to collect information on your dog to help them to make a medical and sometimes surgical plan.
Cottonwood Veterinary Clinic
We offer overnight and day boarding for both cats and dogs. Our kennels and condos have plenty of room for your pet to move around and make themselves comfortable. We treat your pet like one of our own family members and take pride in making sure they are happy and safe.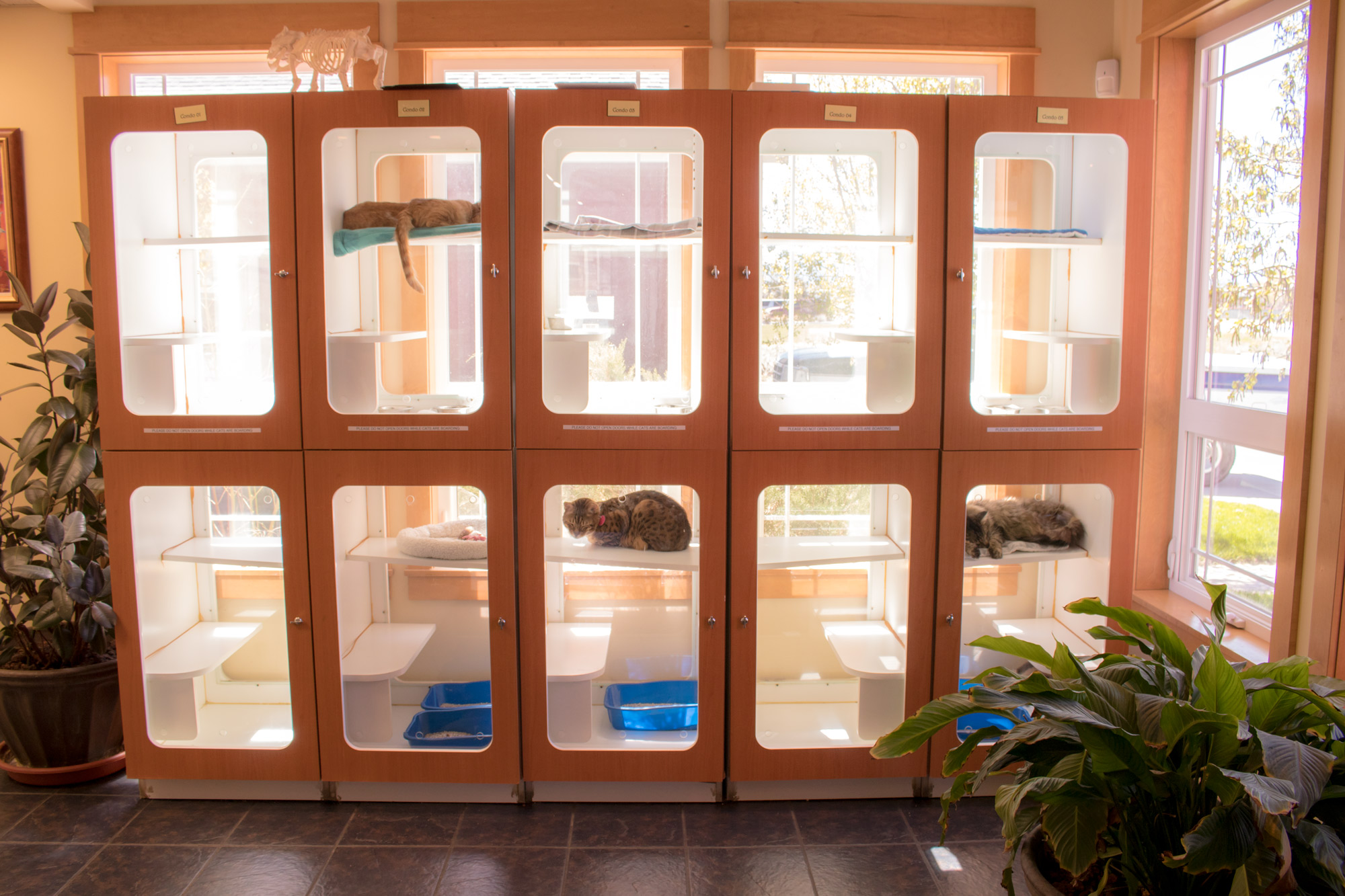 Cottonwood Veterinary Clinic
Payment is expected when services are rendered. In order to focus on our patients' needs, customer service and minimizing costs, we do not bill.
We accept debit cards, credit cards (Visa, Mastercard, Discover, American Express) checks and cash. All cards must be signed by the owner of the card. 
When unexpected illness strikes a pet, unexpected expense strikes as well.  Cottonwood Veterinary Hospital understands this and is able to make some special arrangements through the CareCredit program. It takes just 5 minutes to complete an application and will allow you to break down your payment into 6 monthly installments.  You can either apply at our hospital, where we'll call in your application over the phone for immediate approval, or apply yourself online at:  www.CareCredit.com. 
Highlights of the CareCredit program:
Low Monthly Payments (3% of the Total Balance)
Interest Free For 6 Months
Determine Approval in a Few Minutes
No Annual Fee
Insurance For Your Pets 
Another popular option for your family and pet is insurance coverage. To learn more, please visit the  following pet insurance websites . . .